The Legal Matters You Must Be Aware Of Before You Marry
This information can also be found on the Attorney General's Website:
Under the Marriage Act 1961 there are certain obligations that couples intending to get married, must meet prior to a marriage ceremony being solemnised. A Notice of Intended Marriage (NOIM) form, must be lodged with your celebrant not less than (1) month and (1) day, and not more than (18) months prior to the marriage being solemnised.
You are both required to show your identity documentation to your marriage celebrant before the wedding takes place; i.e. your original Birth Certificates or, authorised extract of such certificate/s. In the case of persons born outside of Australia, a Marriage Celebrant can accept an overseas Passport in lieu of the Birth Certificate. For reasons unknown, if that person cannot produce their birth certificate or overseas Passport, the celebrant will take a Statutory Declaration with details of birth date, place, and parents names together with an explanation as to why the birth certificate is not available.
An Australian Passport cannot be accepted under any circumstances, and Statutory Declarations only apply to those born overseas.
In the case of persons previously married, an original copy of your Decree Absolute or, in case of a spouse being deceased, a copy of the Death Certificate must be produced.
Prior to your wedding, both parties will be required to sign a declaration under the Marriage Act 1961, stating that you believe there is no legal impediment to the marriage between yourself and your partner. This is a legal document and calls for absolute honesty at all times.
To marry you must be over the age of (18) years. Though some exceptions do apply.
In your wedding ceremony there are legal words that must be included for it to conform with the Marriage Act 1961. In a meeting with your celebrant these words will be properly explained to you.

Changing Your Name After You Marry
There is no law to make you change your name once you get married. Though it is a custom that has always been accepted in Australia ever since weddings began. The choice of changing your name is entirely up to you. Whatever you decide you will need to remember that there are certain legal requirements associated with changing your name. On the day of your wedding your Marriage Celebrant will present you with your Marriage Certificate. This certificate will NOT be accepted as identification in changing your name, even though your certificate has a unique serial number on the back. After you are married your celebrant will forward your paper-work to the NSW Registry of Births, Deaths & Marriages to register your wedding. Once your marriage is registered, you can then apply for an Official Marriage Certificate at a cost of $53. This certificate (is) required if you want to change your name on important documents such as; Drivers Licence - Visa's - Passport - etc. If you need more information concerning this, you can phone a (Marriage Officer) at NSW registry on: 1300 655 236
Shortening Of Time
Situations arise from time to time when couples will approach a celebrant seeking to be married much quicker than the usual (1) month and (1) day that's required by law. In many cases there will be a legitimate reason for this, and so it is provided for in the Marriage Act. Under Section 42 (5) of the Act allows for a Shortening of Time for a notice of an intended marriage if the Prescribed Authority is satisfied with the circumstances of that particular case. There are (5) categories of circumstances set out in the regulations for a Shortening of Time, they are:
Employment related or other travel commitments:

Wedding or Celebrant arrangements, or religious considerations:

Medical reasons:

Legal proceedings:

Error in giving the Notice:
The reason for seeking a Shortening of Time (to marry) must fall within one of the categories before an application can be considered. There is no capacity to grant a Shortening of Time outside these circumstances. Couples need to understand that a Shortening of Time is not automatic. When making a decision the Registrar of Births, Deaths & Marriages (BDM) or Prescribed Authority will weigh up the information provided in the support of the application.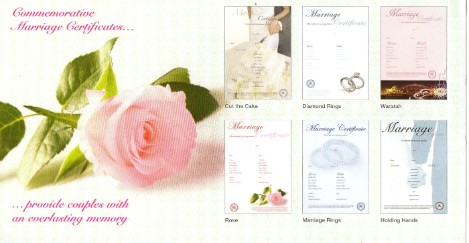 These very attractive Commemorative Marriage Certificates can be purchased at the Registry of: Births, Deaths & Marriages (BDM), after your marriage has been registered. Speak with your Celebrant for further information concerning this.