Dear Wayne, we would just like to say thank you for the lovely service you provided us. It was perfect. And it made our wedding day very special. We are very happy that we decided to come to Australia to get married. Thank you for everything. Margaret & Ian (England)
To Wayne, Thank you very much for the wonderful service you given us. Love & Light (Sue & Ed)
Dear Wayne we cannot thank you enough for your contribution towards making our day just Perfect. We can honestly say that our Dream Wedding Day became a reality only because of the help and support you had given us. For that we are very grateful. Thank You (Mr & Mrs Koskela)
Dear Wayne, thank you so much for conducting our wedding. We had a wonderful day. You are a Great Celebrant, very professional and nothing is to much for you. Your warmth and friendly nature is wonderful. Thank you for being part of such a Special Day for us. Love Always (Trish & Greg)
To Wayne, we cant thank you enough for the wonderful funeral service you provided for mum, it was beautiful and helped us greatly. Love (Karlie & Troy)
Dearest Wayne; many thanks for your kindness at a very sad time for us. The eulogy you gave for my dear husband was wonderful. We will never forget it, or you. (Elaine & Leana)
To Wayne. Thank you so much for everything that you have done for us. We greatly appreciate it. A wonderful Wedding Ceremony it was. (Warren & Tabitha)
Dear Wayne - Chris and I would like to thank you for the beautiful wedding you did for us on, 6 November 2011. Everything was perfect. All your help and advice beforehand - and then the BIG DAY. You couldn't have done more for us. The service was special and you helped to make that for us. Even the weather couldn't have been better. Once again, a very BIG thank you. (Chris & Betty)

Dear Wayne; Both Zoran and I want to thank you for such a beautiful service you provided on our wedding day (Friday the 22nd of June 2012. We cannot express enough gratitude as you enlightened us with an overwhelming calmness throughout the whole ceremony, as you are extremely good at what you do. Your Professionalism skills make you a "PERFECT" candidate for holding such ceremonies. We are so grateful we crossed paths as we could not imagine being married by anyone else. Thank you from the bottom of our hearts. Lots of love and sunshine - (Isabel, Zoran and Ethan)
Hey Wayne, thank you so so much for yesterday, it was everything we wanted and more. Thank you so much for a very personal ceremony. The now - (Mr & Mrs Blanch)

Marriage definitely is a very exciting time, its the day you both will always remember for the rest of your lives. Keeping this in mind, make sure that the ceremony you choose is the one that suits you both. So work closely with me and let me piece together the ceremony that will always be remembered.
Also did you know that your marriage vows are "very" important, not just because of the legalities, but because they are the most integral part of your wedding day. They are the words that marry you when you openly pledge a lifelong commitment to your betrothed. The wedding vows is a symbol of a commitment to building a NEW life together, and is the most romantic moment of your whole day. Though most times the vows are rarely given any thought of, only until everything else is done or when the celebrant brings it to the couples attention. So remember, your wedding vows are so much more important than anything - as the vows is your pledge of commitment to your love. Though I do encourage couples to write their own vows but if they don't want to, then that's alright, because I do have a selection for them to choose from. So if you are thinking on marriage in the near future, then think carefully about the words you would like to say to the one you love.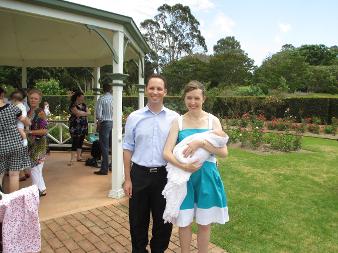 The proud parents Cameron & Felicity with their beautiful son Connor, whom I Christened into their Faith at Wollongong Botanic Gardens. The Christening Ceremony ran for forty minutes along with music and appropriate songs. Certificates were handed out to all grandparents, godparents, and of course the Official Christening Certificate itself.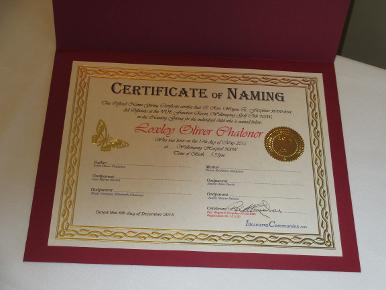 Wayne, I cannot sing your praises enough! Thank you for your amazing presentation of Loxley's Naming Day Ceremony. Every single guest commented on how brilliant you were. The memories that you have helped create will last us a lifetime. Wishing you every happiness for the future; Renee, Scott and Loxley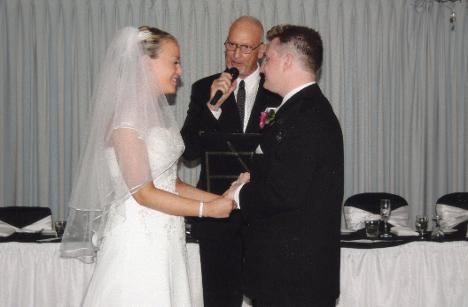 If you do decide in choosing me as your Marriage Celebrant,
then you will need to know that's its very important
that you understand what my responsibilities and
obligations are to you. They include the following;
Unlimited meetings when necessary to discuss your requirements and my services to your ceremony;
Provide to you a contract of service details, complete with Booking Form;
Collect a $50 deposit which will then hold the date, time & place of your ceremony;
Provide all the advice necessary on content for the creation of your ceremony;
Share with you (8) sample wedding ceremonies to help inspire your own creation with my help;
Check that your intended vows do comply with Section 45 of the Marriage Act 1961;
Prepare & provide a draft of your ceremony for you to view;
Be accessible to discuss any alterations and specific requests to your ceremony;
Conduct a rehearsal of your wedding ceremony at a time that's suitable to you;
Collect the final payment & provision of a receipt right up to the day of your wedding, but before the ceremony commences;
Prepare the Certificates of Marriage;
Conduct the Marriage Service;
Lodge the Notice of Intended Marriage form (NoIM);
Provide the Happily Ever...Before and After pamphlet;
Give to keep a DVD supplied by the Australian Government on building a Stronger, Healthier Relationship.
Provide a Commemorative Marriage Certificate order form;
Provide a written presentation copy of your wedding ceremony;
Submit all the legal documentation to the N.S.W. Registry of Births, Deaths & Marriages within the (14) day time-frame after the ceremony;
Provide on the day a PA system with microphone so your ceremony is audible for all at NO extra cost;
Supply table, table cloth and two chairs if asked for;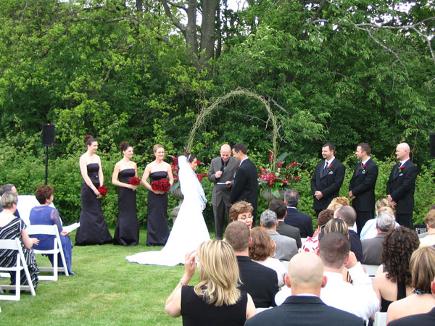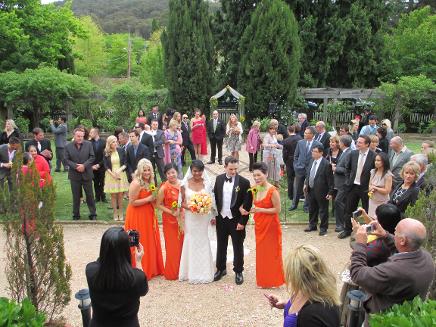 This wedding had two Ceremonies in one. A Christian ceremony combined with the rituals and traditions of a Buddhist wedding ceremony. It was very moving to say it mildly as many of the guests did proclaim later. This wedding was held at the Fitzroy Inn, Mittagong NSW.